Well hello there my horror loving friends – and weirdo's who stumbled upon this page purely by accident as they looked for God only knows what. Well, would you look at the time? Or rather the date. May is fast approaching and that means – so is one of the United Kingdom's biggest conventions, Train Spotters United. Sadly I think tickets for that are pretty much gone now, those bastards sell faster than a Take That concert (back when they were "popular"). Can't believe I wrote that actually. I just want to say right here and now, I don't like Take That. New Kids on the Block was much better but I digress. There is another convention that you can get tickets for this May and that is – obviously – HorrorConUK.
Truth be told, you should already have your tickets. If not, you're slacking.
I was at this convention last year. My first year with the team as I was tied into a different (shit) convention the year before. Live and learn, hey I was impressed with how it was run and so, being a man of little dignity, I begged them to have me back. After numerous errands and a little blackmail and hint of violence – they agreed. Then, because I had them in the palm of my hand, I asked if I could bring Chewie The Pug with me too. Not because I want to – I just can't get a dog-sitter for the little bitch. They said, 'Yes' again and then bowed down to me in all of my brilliance.
Damn. A strong opening I feel and yet I have not introduced myself. Although – technically – I shouldn't have to because I am amazing (long suffering sigh inserted here). My name is Matt Shaw (although some people just call me "asshole") and I am one of the leading UK horror authors at the moment with over 150 titles out there. Primarily I am known for the infamous black cover books but I write in other genres too to keep things fresh and stop myself from getting bored. And look, I must be okay because:

"There is ferocity about Matt Shaw's writing that is both welcome and also necessary when it comes to horror." – Shaun Hutson, author of "Slugs".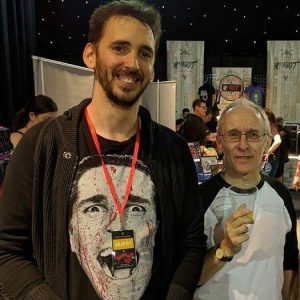 (Me with Shaun at HorrorConUK 2016)
Yep, that is the Shaun Hutson who I met at last year's (2016) HorrorConUK and became friends with. It's not someone pretending to be him like that sneaky bastard in the Amazon horror charts who has called himself Stephen King (I shit you not). So, yeah, a quote from him, so I must be doing something right…
My work has been adapted into comics and translated in German, French, Korean, and Japanese. We have also started pre-production on a feature length film based on one of my books that went to number one on Amazon – "MONSTER". We hit the goal in just over a day which was amazing. In fact, if you would like to show some support – you can find the link right here and see some truly great (and to be rare) perks:
https://www.kickstarter.com/projects/185336144/monster-an-extreme-horror-feature-length-film?ref=user_menu
The more money we raise – the better the project although, being a cross between the legend of the Greek Minotaur and "The Texas Chain Saw Massacre", it will make a great horror film for fans of the genre either way… But more money is definitely better with feature length films (total budget is £15,000 so far) as we explore the argument of nature vs. nurture… Who is the real monster? The 7 foot beast hidden away in the basement of a warehouse complex by the embarrassed parents? Or are the real monsters the parents who turned the deformed being into what he is today through years of torment and abuse? Exciting.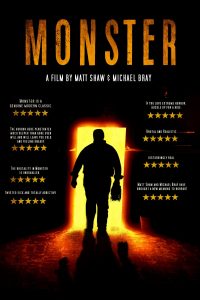 Anyway, that's enough blowing of my trumpet. My mouth is getting sore and I am tired. So… Where was I? Ah, yes, HorrorConUK. I am thrilled to be coming back for my second year and am looking forward to seeing some of the other guests there. Of the list (Heather Langenkamp, John Jarratt, Sid Haig, Cassandra Peterson, Linda Hayden, Graham Humphreys and Sir Christopher Frayling) I have my favourite but I won't divulge that with you as I don't want the other guests to get jealous and beat them up. It's a pretty cut-throat industry. Despite having a favourite though, I will be trying to catch up with all of them and it will be nice to see Graham again as I have met him a few times and we are even in talks for him to do the cover artwork for a new anthology I am putting together with some real heavy-hitters of the literary world (including myself because I am, in case you missed it, awesome).
It will also be interesting to have a chat with Sir Christopher Frayling too. If anyone knows horror – it is him. If you haven't had the pleasure of reading his work yet – I urge you to try out Vampyres: Lord Byron to Count Dracula which gives a truly fascinating insight into the myth of the vampyre. You have just over two weeks to grab a copy, devour it and then bring it along for him to sign at the event whilst you pick his brains… Just – probably safer you don't mention Twilight. Those aren't vampyres! (Copies of Sir Christopher's book will be available to buy at the event – HC)
As already mentioned, I will be bringing my pug with me to the event. Now, this is going to sound like a real dick move but bear with me… If you want to "meet" Chewie and have a pug hug please be aware that there will be a small fee. This is because she has had an operation and if I don't put a fee in place – I think everyone will want to cuddle her because she is so loving and friendly. Knowing how busy it was last year, it could be a bit much for her and I don't want her stressed. Please note that if her handler (I'll be too busy being awesome) says she needs a break and a time-out… She will be left in peace. The fee itself (£2) will be going in a pot on the table that is for the Blue Cross Animal Shelter https://www.bluecross.org.uk/. Depending on who you talk to I am either "a horror author" or an "asshole" but no one will deny I am not an animal lover! Actually, scratch that, I have a large tax bill to pay… If that snake and spider zoo is there again this year, like it was last, then I might do them a deal and sell them Chewie! She could feed those creepy things for at least… well, a day probably but she is famous (because she is with me and I am awesome) so I might still get a good price. I'd pay the tax bill and buy a goldfish. They're easier to walk.
I will also be bringing a collection of my books and my Dead Ted Bears (mutilated teddy bears – some even based on Chewie The Pug but most of all, I will be bringing my love of horror and chatting with like-minded freaks even though I would have just come back from a book signing in Seattle and will be a tad-zombie-like.
Finally, you want horror? Well… Horror I have… Along with the above – I'm bringing my wife.
That's me all waffled out (what do you mean, "Thank God"?) I look forward to meeting you all in a few weeks. Let's have one Hell of a show!
Until next time,
Matt Shaw