Corey Feldman began his career at the age of three, starring in a Clio Award-winning McDonald's commercial and has sustained a 35-year career as a steadily working actor, with more than 80 films under his belt. In 1979 Feldman made his big screen debut in Time After Time (1979). Over the next few years, Feldman continued making guest appearances in many television shows and, in 1981, Feldman supplied the voice of "Young Copper", in Disney's The Fox and the Hound (1981).
In 1984 Feldman's career in the horror genre began with Friday the 13th: The Final Chapter (1984) as the main character, "Tommy Jarvis". He reprised the role once more in Friday the 13th: A New Beginning (1985).
Feldman then began a series of appearances in blockbuster films such as Gremlins (1984), The Goonies (1985) and Stand by Me (1986). In 1987, Feldman won the Jackie Coogan Award for Stand by Me (1986), and appeared as Edgar Frog in the cult classic film, The Lost Boys (1987), alongside Jason Patric and Kiefer Sutherland. In 1988, he won the Young Artist Award for Best Young Actor in a Horror Motion Picture for his performance in The Lost Boys (1987).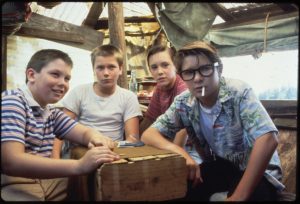 In 1989, Feldman appeared in The 'Burbs (1989), along with Tom Hanks and Carrie Fisher, and also provided the voice of "Donatello" for Teenage Mutant Ninja Turtles (1990), which also marked his thirteenth number-one box office hit in a row.
Feldman then took time off to focus on his personal life and returned to the film world with appearances is Loaded Weapon 1 (1993), Maverick (1994) and Teenage Mutant Ninja Turtles III (1993).
In 2002, Feldman appeared in the comedy, Dickie Roberts: Former Child Star (2003), for which he wrote and performed a song for the soundtrack, shortly followed by an opportunity to work with Wes Craven on Cursed (2005).
The Eyegore Awards honoured Feldman with an award for Legendary Work in Horror Films in 2007.
Feldman continues to work in film and tv and has recently appeared as a voiceover artist on The Teenage Mutant Ninja Turtles TV series and American Dad.
Biography courtesy of IMDB
Autograph Price £35 (Please Note: Corey only does personalised signings)
Photo Shoot Price £35
Photo Shoots are limited.
All guests are announced subject to cancellation.