Duncan Regehr is a Canadian writer, multi-media artist, and film and television actor. He was also a figure skater and a classically trained Shakespearean stage actor in his native Canada, before heading to Hollywood in 1980.
After numerous appearances in Canadian theatre, television and notable roles on radio for the CBC, he and his wife, Catherine, moved to Los Angeles, California, where he began to develop his work in film. Shortly after arriving, he was hired to play villain Prince Dirk Blackpool in the short-lived 1983 fantasy-comedy series Wizards and Warriors opposite Jeff Conaway's Prince Erik Greystone.  He went on to star in many more US television films, including the 1984 television mini-series The Last Days of Pompeii, as Lydon, the gladiator; as Errol Flynn in the 1985 CBS film My Wicked, Wicked Ways, based on the autobiography of Flynn; and on the science fiction series V as the Visitor military leader Charles.  He also starred in the 1982 mini-series The Blue and the Gray as Captain Randolph.
In 1987, Regehr portrayed a dynamite-slinging Count Dracula in the film The Monster Squad.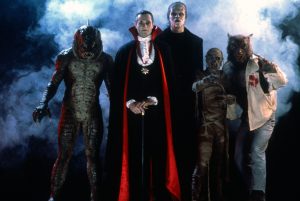 At six feet, five inches tall, Regehr's intimidating physique, and powerful presence often had him cast as larger-than-life heroes and stylishly wicked scoundrels.  His portrayal of Dracula in The Monster Squad (1987) is thought by many to be one the best characteristions of the Count. In 2006 when "Wizard" magazine did a list of the 100 Greatest Villains of All Time, and Dracula was ranked at #30, it was Regehr's version that appeared on the list!
He has also appeared on shows such as Murder, She Wrote, Alfred Hitchcock Presents (If Looks Could Kill), Star Trek: The Next Generation and Star Trek: Deep Space Nine.
One of Regehr's best-known roles to date was as Don Diego De La Vega and his alter ego, the swashbuckling hero, Zorro.  Regehr portrayed the masked hero for 88 episodes from 1990 to 1993.
Regehr is also an accomplished and successful artist.
Biography courtesy of IMDB & Wikipedia
Autograph Price £20
Photo Shoot Price £20
Photo Shoots are limited.
All guests are announced subject to cancellation.