Edwin Neal is an American actor, perhaps best known for his role as the hitchhiker in The Texas Chainsaw Massacre. He has been a top voice talent and actor for years appearing on screen and off, including three voices in Wii's Metroid Prime 3. He has worked with Oliver Stone on JFK and is Robotnik in Sonic the Hedgehog: The Movie. He set a record doing 26 different voices in the only completely unedited version of all 103 episodes of Gatchaman (Battle of the Planets), which included the lead villain Berg Katse. Neal also provides three voices in the DC Universe Online game; those of Two-Face, Killer Croc, and Harvey Bullock.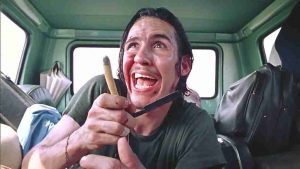 Born in Houston, Texas, Neal, after high school, studied at Lon Morris College in Jacksonville, Texas, before moving on to acting and directing studies at the University of Texas at Austin. While there, Neal auditioned for the role of the Hitchhiker in The Texas Chainsaw Massacre, and the rest as they say is history!  He has said that when auditioning he acted as an eccentric relative of his. The movie went on to become a cult classic.
In 1993 Neal was inducted into the "Hollywood Horror Hall of Fame".
2019 is the 45th anniversary of The Texas Chainsaw Massacre so we're absolutely thrilled that Ed Neal is coming to HorrorConUK's Something Wicked.
Biography courtesy of Imdb & Wikipedia
Autograph Price £20
Photo Shoot £20
Photo Shoots are limited.
All guests are announced subject to cancellation.