Graham Humphreys is a freelance illustrator and designer, who has been working in the industry for almost 40 years.
"As a fan of horror films since first seeing images of the old Universal monster films, I was always attracted to the macabre. In my growing body of work, I have painted monsters from film and literature, storyboarded movies and designed album covers. There are magazine covers and book jackets, as well as product packaging and advertising, limited edition screenprints and private commissions. But most importantly a humble history of Horror in home entertainment from the VHS to DVD and Blu-ray, as viewed from my own perspective and work within the industry.
My illustration style was always heavily influenced by music. During my first year at Salisbury College of Art in 1976, I was drawn to the emerging Punk Rock scene. I could see a parallel with horror films – the look and the sounds seemed to come directly from the genre. My illustration style was an attempt to visualise the sound of this raw, aggressive music, full of texture and violent colour.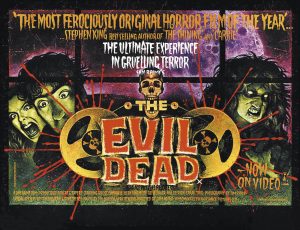 The two defining film posters that propelled me furthest came through the independent video and film distribution company Palace Pictures. The UK posters for 'The Evil Dead' and 'A Nightmare On Elm Street' still resonate for the memories of any of us that lived through the early VHS years.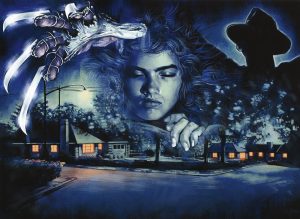 Thanks to illustration commissions from companies like Arrow Video, plus the connectivity of the internet, my work is finding a wider audience. I have attended a growing number of genre events and conventions, enabling me to meet and speak to the people for whom my painting is dedicated and thus shape my future work.
In 2015, Proud Galleries published a limited edition book of my work 'Drawing Blood', launched with an exhibition at Camden's Proud Gallery. I imagine the volume of work since then could fill another book and I consider myself to be very fortunate to be the busiest I've ever been, especially in a profession that allows me to share my enthusiasm with fellow horror fans.
All my illustration work is created in the traditional medium of gouache on paper. So I still get to make a mess."
Graham will be designing an A2 poster especially for Something Wicked – these will be available to pre-order for £15 from our ticket shop.