Joe Dante is a graduate of the Philadelphia College of Art. After a stint as a film reviewer, he began his filmmaking apprenticeship in 1974 as trailer editor for Roger Corman's New World Pictures. He made his directorial debut in 1976 with Hollywood Boulevard (1976).
In 1977 Dante made his solo debut as a film director with Piranha (1978).  He next directed the highly praised werewolf thriller The Howling (1981), followed by the It's a Good Life segment of the episodic Twilight Zone: the Movie (1983).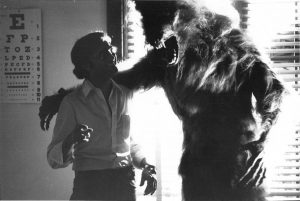 Having worked with Steven Spielberg on the Twilight Zone, Dante was chosen to helm one of the first Amblin Productions for Warner Bros. Gremlins (1984) which was a runaway hit and grossed more than $200 million worldwide.
Dante followed up with Explorers (1985). and then Innerspace (1987), an action comedy in which miniaturized test pilot Dennis Quaid is injected into the body of supermarket clerk Martin Short.
Tom Hanks starred in Dante's next film The 'Burbs (1989), which was followed by Gremlins 2: The New Batch (1990). In 1993 Matinee was released featuring John Goodman as a showman premiering his new horror film during the Cuban Missile Crisis, was a production of Dante and partner Michael Finnell's Renfield Productions.
Small Soldiers was released in 1998, followed in 2003 by Looney Tunes: Back in Action (2003) featuring one of Dante's favourite actors, Bugs Bunny!
Dante's 2009 film The Hole received positive reviews, and was awarded the Premio Persol at the 2009 Venice Film Festival for the "3-D feature deemed the most creative among those produced globally between September 2008 and August 2009."
In 2014, Dante made Burying the Ex, a horror comedy starring the late Anton Yelchin. It was selected to be screened out of competition at the 71st Venice International Film Festival, and was released in 2015.
In 2019, Dante released his most recent project, Nightmare Cinema, a horror anthology film starring Mickey Rourke and featuring shorts directed by Dante, Alejandro Brugués, Mick Garris, Ryūhei Kitamura, and David Slade.
Dante also produces the critically-acclaimed webisode series, Trailers from Hell.
Autograph Price £40
Photo Shoot Price £40
Joint Photo Shoot with Zach Galligan £65
Photo Shoots are limited.
All guests are announced are subject to cancellation. 
Biography Courtesy of Imdb & Wikipedia