Brace yourself … for the dark hours when you dare not close your eyes. Tales of horror to frighten and disturb. Join The NoSleep Podcast as the sleepless hours tick by. The NoSleep Podcast is a multi-award winning anthology series of original horror stories, featuring a cast of talented voice actors, rich atmospheric music and sound effects to enhance the terrifying tales.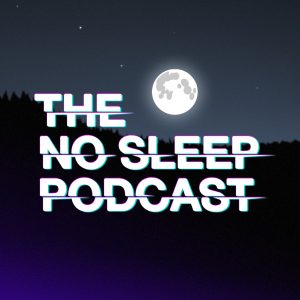 In the spring of 2010, a new forum appeared on Reddit.com. It was called Nosleep and the concept of this forum (or "sub-reddit") was to be a place for people to post original scary stories about frightening experiences. It was an online version of telling spooky stories around the campfire.
A year later, as Nosleep was growing at a rapid pace, one member proposed the idea of doing a podcast where some of the top stories from Nosleep would be narrated in an audiobook style. The response was positive and over the next few months a small group of members endeavoured to put together what would become known as The Nosleep Podcast. On June 13th, 2011 Episode #1 was released.
The podcast's audience continues to grow mainly through word of mouth and is consistently rated 5 stars on iTunes with reviews such as 'I recommend this to anyone who loves horror! They read nothing but the best stories. Whenever I'm listening to it, it's like I'm watching a movie, I can picture everything perfectly. That's how amazing it is!'
The Nosleep Podcast has proudly featured tales from authors who have gone on to publish their stories. Notably, the "Penpal" series from Dathan Auerbach and "99 Brief Scenes from the End of the World" by T.W. Grim.
We are delighted that The NoSleep Podcast will be performing their terrifying tales at HorrorConUK's Something Wicked.
https://www.thenosleeppodcast.com