This Is Scary have been on the horror scene since the late 1980's. They are creators, imaginers, artists, actors, models and event organisers – and run the very successful Fort Amherst Halloween events every October, as well as the popular Facebook group 'This is Scary'.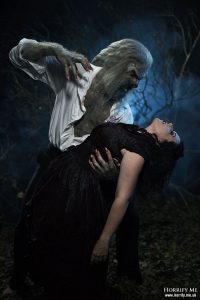 They have an eclectic background and skill-set, but are always passionate about the genre.  They also love the horror community and how this shared fandom can unite and bring people together from all walks of life, like one big family, in their own words "This is Scary is "us" it is our community and what we represent as a company, Horror is in our blood!"
This is Scary have supported HorrorConUK since it began in 2015 and we are thrilled that they will be sponsoring this year's annual Scareplay competition once again and offering prizes galore to the winners!  So get your best (or worst) make-up on and stand centre stage for a truly unique and sometimes unpredictable and crazy show!  Enter now!