Tyler Mane is a Canadian actor and retired professional wrestler
In 1992 Mane made his film debut in Starfighters (Luchadores de las Estrellas) playing the villain of the movie, El Vampiro Interespacial. While part of World Championship Wrestling Inc (WCW), he auditioned for and received a part in the television series Smokey and the Bandit.
After retiring from wrestling, he appeared in numerous films, including X-Men as Sabretooth, How to Make a Monster, Joe Dirt, The Scorpion King, Troy, Hercules and The Devil's Rejects in the role of Rufus Firefly.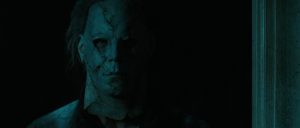 In 2007, he played Michael Myers in Rob Zombie's reboot of Halloween. After winning the role, to better understand the character of Michael Myers he consecutively watched seven of the eight Halloween films (excluding Halloween 3: Season of the Witch because Michael Myers does not appear).
He is the tallest actor at 6′ 8″to portray The Shape. In 2009, he reprised the role again in Halloween 2.
In 2010, Tyler and his wife launched their own production company: Mane Entertainment. Their first feature, Compound Fracture was released in 2013.   Since then Tyler has appeared in a number of TV Shows & films including Victor Crowley, and Abnormal Attraction with Malcolm McDowell & Leslie Easterbrook.
Autograph Price £30
Photo Shoot Price £30
Photo Shoots are limited.
All guests are announced are subject to cancellation. 
Biography Courtesy of Imdb & Wikipedia