We are delighted that the one and only Graham Humphreys is returning to HorrorConUK for the fifth year running!
Graham Humphreys is a British illustrator and visual artist best known for his film posters and numerous VHS/DVD/Blu-ray covers, some of which gained notoriety during the height of the UK's 'Video Nasty' media controversy.
Among his best known work, the UK theatrical posters for 'The Evil Dead'' and'A Nightmare on Elm Street' and their various sequels.
Instantly recognisable, Graham's output has expanded vastly since those early successes and he remains busier today than ever before, with clients both sides of the Atlantic.
Current work includes LP soundtrack covers, book covers, film posters, blu-ray sleeves and privately commissioned reimaginings of posters for classic fan favourites.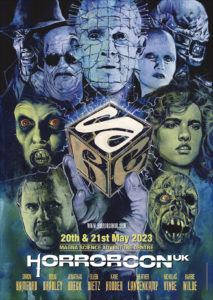 We are honoured that Graham has designed our beautiful official event posters since 2017.  Our specially commissioned limited edition A2 poster is available exclusively to HorrorConUK!  They're not available anywhere else!!
This year's poster is £15 and available for pre-order here, collection is from Graham's stand at HorrorConUK where he will sign it for you! And if you wanna look like one of the coolest mofo's on the planet T-shirts are also available to pre-order  https://www.nerdoh.co.uk/horrorconuk2023 for collection at Nerdoh's Official Merchandise stand