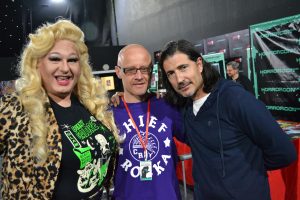 HorrorConUK is my guilty pleasure event of the year, with so much to see, a chance to meet your favourite icons, mouth watering merchandise stalls and well… me darlings!!!
Bunny Galore, Horror Host
2017 will be our third HorrorConUK and we are already looking forward to the event. It has got better year on year and it was wonderful to begin with! This event is one of our favourites. Always fun, interesting and little scary with the most amazing crowd of lovely people, including fantastic cosplayers who bring the days alive. As traders we had a ball, with a great atmosphere created and maintained by the organisers and staff who could not be more helpful. It is one of the very best and we highly recommend this event/experience to everyone.
Square Orange Art (Martyn and Helen)
HorrorConUK has fast become the essential event for all fans of the genre, unmissable!
Neal Harvey, Rubber Gorilla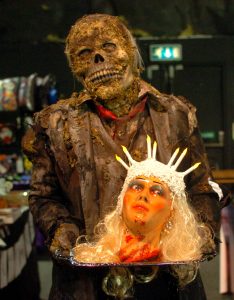 It's packed with walkers, stalkers and wandering, silent serial killers. I'm talking HorrorConUK, people, where Jason Voorhees and Michael Myers can be found rubbing shoulders with Leatherface and his clan. There are real people, too, all soaking up the unique vibe of an event that's about being a fan and meeting your heroes. HorrorConUK is a terrific celebration of all things horror – movies, books, TV and more. It attracts great guests, the access is fabulous and, importantly, it's not over-priced. Get along and have some good ol' gory fun.'
Tony Earnshaw, Journalist & Broadcaster
Thanks for an awesome event. The queuing system for Sunday was perfect, please keep to that control. Gonna be hard to top this years guests.
It was a fantastic convention. My first HorrorConUK but certainly not my last. I visited on Saturday with my partner and we both had a great time. The atmosphere was good, venue was spot on, Q and A guy was awesome and the staff were amazing. I was early bird and whilst waiting in the queue a member of staff came to check we were in the correct line. A person behind me had a partially blind stick and said he has a normal ticket and thought he was in the right queue. Instead of making him move to the back of the other line the staff took him to the front and let him in early to help him. This sort of kindness you don't always see. Looking forward to next year.
So gutted I missed last years… But this more than makes up for it. Will definitely be back next year 🙂
Brilliant and totally unforgettable weekend, bring on next year!
Pleasure was all ours brilliant weekend.
Can't wait for next year!
Great day. Thanks to all the organisers. Looking forward to next year!!!
HorrorConUK has fast become the essential event for all fans of the genre, unmissable!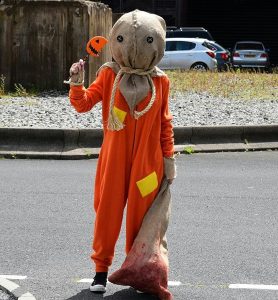 Had an amazing weekend, everyone is always so friendly at HorrorConUK and I always feel so at home. My first time dressing up as Sam from Trick R Treat and won the Scareplay competition for my category! Can't wait for next year! 🙂
Please come back next year! John Carpenter as a special guest please! 🙂
It was our first Horror Convention and although we missed half a day there was still plenty to get involved with. I was pleased to see the guests and surprised by how pleasant they came across.
Had an amazing weekend, thanks to everyone there for making it so. Can't wait till next year!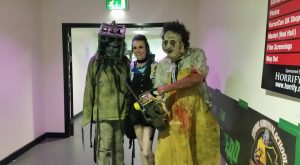 Cannot wait for next year's looking forward to it already had a fab time and costumes were amazing well done to ppl that won. The 2 werewolves were fantastic. Also the ppl behind the masks of Jason Vorhees and Michael Myers were brilliant and stayed in character the whole weekend. Well done to them 2 they were my fave's. See you next year…
Thank you so much for such an excellent event! Fabulous venue… please don't ever change it. Very well organised with so much to do; everyone was so friendly, the guests wonderful and it was all so relaxed.
Awesome day, my first in character and I loved it.
I has an absolute blast! Loved every minute 🙂 and thanks all who took pics of me, my anxiety was eradicated with each interaction
Second time at HorrorConUK and another excellent weekend!!! Our favourite weekend of the year!!
Me and my family had an absolutely amazing time! Thanks for organising such a great event 🙂 See you next year!
Had a killer time, shall definitely be in costume next time. I wish it was more often, loved it so much.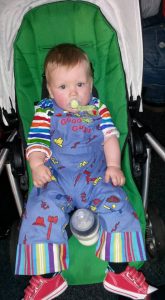 My little dude's first Horror Convention, he loved it, not a single meltdown. Looks like he's a born horror fan. Can't wait for next year. Thanks for finally giving UK a kickass Horror Convention.
Our first time and it was truly amazing we will definitely be back next year!!
I posted this comment elsewhere, but wanted to make sure you saw it HorrorConUK 2016, as it's important you know how well you pulled this event off, and what it means to us fans: thank you IMMENSELY for a second incomparable year. We were like little kids at Disneyland yet again! Thanks for your hard work; it is appreciated so very much!
First time for me and the fam. Had a cracking time….. dressing up next year. 🙂
Absolutely loved it, our first one. Can't wait for next year. Defo getting dressed up next time.
What a phenomenal weekend. Unforgettable. I will be producing coverage of the event in the coming weeks.
This was my first convention experience & it was a great one! I was so impressed by the costumes & make up & all the incredible artwork on the stalls.
Amazing event. First time for us but we shall definitely be back next year 🙂
Awesome event! Great work all round by the organisers, guests and sellers! Bring on 2017!!
A weekend of awesomeness! Just like last year
Well pleased. Such a well run convention from beginning to end, I wish you every success for the future.
Your commitment to this event and to the mad horror fans like myself who attended has been unlike anything I've seen before. You're all wonderful!
Wow!! Brilliant inaugural UK Horror Con at an ideal venue!! Top guests (Tom Savini, Gunnar Hansen, Ken Foree, Bill Moseley, Caroline Munro & Martine Beswick). How did you pull that off? Really friendly, chatty and genuine people. Cosplay was great fun, with horror villains (or maybe heroes) a plenty. Loved it!
Had an awesome, awesome weekend!! Felt like a kid at Xmas. Spreading the word so could be having more Geordies head down next year. Please, please be on!! I didn't want to come home. Though might have to actually run up to all the people dressed up next year and tell them how awesome they look!!
I didn't wanna leave either!!  Sooooo much fun!
What an awesome guy Bill (Moseley) is.  Was great hearing his stories at the Q & A.  Here's hoping we have another HorrorConUK & that the guests are just as good as this year!!
Bill (Moseley) was such a sound bloke.  Talked to my son for ages after the Q & A, because he was too shy to ask his question in front of an audience.
Back home after what can only be described as an amazingly fantastic weekend at HorrorConUK! So many awesome and friendly traders and stalls and the atmosphere was superb. Was great to meet so many FB friends and chat with Tom Savini. Thanks again and see you all for the next one
You've gotta do it again next year!!  It was amazing and we need more aha
I'll defo be back next year if you can do it again, thanks for all the hard work you all did to make such an amazing day at an amazing venue.
Again next year PLEEEAAZE!  Great event in a fantastic venue amongst a load of lovely, warm, friendly & charming people!  Very sincere thanks to all who had a hand in organising it all.  Your efforts were greatly appreciated! First Class!
Had such an awesome weekend thanks so much!! Cannot wait until next one.  Same time next year please!!  Thanks to everyone involved for an amazing weekend.
A really great event.  Here's to 2016.
Best weekend ever.  Please, please do it again next year.
Thank you for a fab weekend.  Let's do it again.
I will definitely be back next year if u guys can make it!!! Absolutely loved it!!!!
PLEASE make this a regular event!  It was FAB!!!!!!!!
Talking to our customers over the weekend the overwhelming vibe was how amazing a weekend it was, it would be a tragedy if this didn't return next year
Definitely please come back next year.  Loved the zombie lectures and Tom Savini – what a guest.
Thank you HorrorConUK, what an amazing weekend. Had the most awesome time.  Come back next year!
As guest line up goes, you'd be hard put not to please any genre of horror fans!  The main hall itself was huge with lots to do.  I found the venue fascinating if not easy to get lost in.  All in all, it was a great experience and one I'd love to attend again in the future!
One of the best days I've had at a con, really hope u can return next year.
Oh yeah and next time I'm dressing up, this Horror Convention was my first and it definitely won't be my last.
Having been invited to a number of shows across the UK and Europe, I must say that HorrorConUK is the best organised. The organisers really understand what makes the horror community tick
Gary Smart, Cult Screenings
In my 30 some years of attending cons, this one is great for fans but fun for guests too! It's like pizza… you crave it! I had a blast!
Linnea Quigley (Trash), Return of the Living Dead
A very haunting venue with a family friendly twist! I loved HorrorConUK!
David Naughton (David Kessler), An American Werewolf in London
Awesome event! Great work all round by the organisers, guests and sellers! Bring on 2017!!
A weekend of awesomeness! Just like last year 😉
Loved it… Great turn out its getting better every year…Fantastic.

We all had a brilliant day on Sunday, guests were amazing and the cosplay was awesome. Loved every minute of it. Roll on next year, my daughter will be 4 and going as Bride of Chucky he he x
Congratulations on another superb event.
Whatever you have planned for us in the future, please keep it at the Magna … that place is epic.
Cracking weekend. Can't wait for next year!
After last years con I was convinced you'd never be able to top it…but you did! Thank you!
We loved meeting you all, met some amazing people and had such a laugh doing so! The costumes were amazing! We didn't know were to look, the staff were all so welcoming! All the snakes and reptiles came home for a long rest and thank you all for your lovely donations all our creatures' thank you for their dinner! And hope we helped people learn about the snakes and tarantulas and helped them get over their fears although I'm still on edge with clowns!
Had a wonderful time. The queues for autographs were handled superbly and the event was far superior to last year. My only slight (and I mean slight) was the Q&A talks were too short. I could have listened to Doug Bradley all afternoon.
Last year was brilliant, this year was amazing! Me and my daughter had a fab time! I can't find a single fault. Roll on next year
Fantastic weekend at HorrorConUK, our first, will be back next year for sure.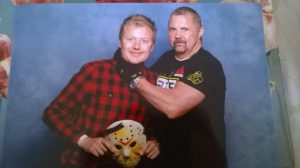 Had an amazing time yesterday. Still can't believe I got to meet Doug Bradley, and I'm still recovering from Kane Hodder's headlock!
Thank you so much, can't wait for next year
What a wonderful day we had! I really loved HorrorConUK 2015 but this year was even better. The schedule worked very well for us, we had a busy day but lots of fun.
Everyone so friendly and happy to chat it was such a nice environment. I can't wait for next year!
Can't wait for next year's guest announcements! Thank you all so much for all your efforts and for getting the awesome Kane Hodder over – he was a lot of fun.
Got stabbed in the neck by the lovely Shaun Hutson and strangled by Kane Hodder, perfect weekend! Can't wait for next year. Thanks guys!!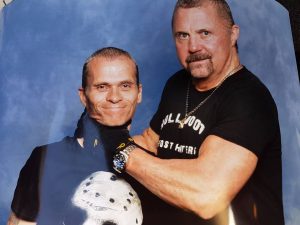 Was a brilliant day my first ever HorrorConUK I wasn't disappointed
Brilliant time at HorrorConUK. First year here and planning to return next year. Thank you. 🙂
My first time at a horror convention and it was amazing. I definitely think that horror fans are the nicest people in the world. So, so, so friendly. The celebs were amazing and talked to people and had a laugh. I really wish I had gotten dressed up though.
It's been great to see how it's grown since last year. Roll on 2017!
I would just like to say a big thank you to the person who had the idea to put together HorrorConUK and all the people that made it possible you are all truly amazing. The day was better than I expected, it was mind blowing and I can't wait till next year 🙂 x x x x x x x
My boyfriend and I travelled from Glasgow to spend a weekend at our first HorrorConUK and we were not let down! Had sooo much fun and will definitely be coming back next year!
Counting down the days until next year!
Yet another amazing weekend!! Thanks to anyone who came by my stall and for everyone involved in putting on the event, you did an amazing job, thank you for getting so many awesome people together at what is now what I look forward to most each year!!
Excellent event. All excellent guests. Ian McCulloch was a top man
Was my first HorrorConUK and I gotta say it was brilliant! My girlfriend came with me and she's not that big a horror fan and she loved it. Great guests and a lot of various things on sale that were brilliant.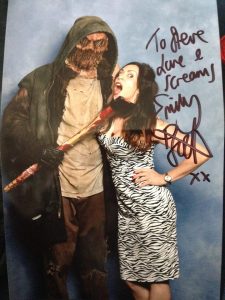 It was amazing bringing the wicked one to the best convention in the UK.
We had a great time and had great feedback about our comic and everyone we met was top quality, will defo be back again and again, great show.
Please come back next year it was the best con I've been to just because it was all horror and the guests were great!
PLEASE, PLEASE do it again next year! I only found out about this year by chance, but if you do another one I'll paste the poster all over the internet!  Great venue, great guests and great crowd, and the Cosplayers were amazing
Please come back again next year, brilliant venue everyone was so friendly and helpful would definitely come back next year
YES!!  It was amazing! Bring on 2016
Absolutely loved it, hopefully it can only get bigger and better! See you in 2016!
Amazing had such a good time will defo see u in 2016
Travelled up from the Midlands, well worth it.  A lot to do and see.  Brilliant celebrity guests and sellers.  Very well organised and set out, make 2016 happen!
We came up from Norfolk and had the best time ever!!  Please, please come back next year!  Have loads of people wanting to come with us next time!!
We travelled a couple of hours to get there. Thought it was a great event.  Only attended for a day.  Do it again and we will do the full weekend!
Yes, you must do it again next year please!!!!!
It was the first time for me and my sis and we both loved it.  Great people, guests and hosts, can't wait 'til next time!
We couldn't be there this year but have heard excellent reports from everyone who was there!  Please do this in 2016!
Best time!!!  So exciting and full of amazing people and special guests.  PLEASE COME BACK NEXT YEARRRRR!
I was dragged there by my horror mad son and I have to say a big well done, cos even I enjoyed it!
Fantastic con!  Had a great time, met some amazing people, can't wait until next year!
Great guests!! Hopefully you'll be back next year and if you do, we'll be there again!  More time for Q & As next year!
It was off the hook.  Just fantastic.
I had a great time on Saturday.  Thanks to everyone involved in organising and running the event.  I was particularly impressed by the talk's hall.  Tiered seating is such a luxury at conventions – it happens so rarely, yet it makes the world of difference to attendees.  If you do it all again next year, please stick with this set up.  It's really appreciated.  Felt very classy.  Nice venue all round, I thought.
You'd better do another Horror Convention next year, or so help me!!!
We had an awesome time!  Had my 9 month old with us and he loved all the random monsters he met and we got to meet some of our horror heroes and get their autographs.  Hoping its even bigger next year, we came all the way from London & would happily do it again.
Best day ever!  Please please please plan another!
Best day ever!  Please please please plan another!
In a word, AWESOME!!!!! Ken Foree = Legend.
Well, after 30 years of doing shows (for me) longer for the rest of the guys((old b*stards) that was the best show environment ever. The nicest people go to Horror Conventions, really, it made me write this. plus those OTHER ppl Tom Savini, Gunnar Hansen, Ken Foree, Bill Moseley AND all the rest made it very special.
Wow, just got back from a great 2 day event. HorrorConUK was just superb. I met so many nice people and got to have some great chats about all things horror. I was so chuffed every time someone bought a book. To those that did, I hope you enjoy and thank you so much for giving my work a go.