Now the crypt dust has settled on HorrorConUK for its fifth year, we thought we would share just some (we don't have room to share all!) of the awesome comments we received from many of you via social media, and wow, thank you so much for your kind words and support, we appreciate it all.  And if you wish to keep in the loop with all the latest HorrorConUK news sign up to our Newsletter here xx
Dario Argento: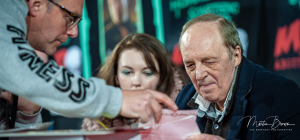 Such a very friendly gentleman
Dario was fantastic, everything I hoped he'd be. Was a trooper too – started promptly at 10 am on both days
Dario – I can't believe I got to meet him
Jennifer Rubin: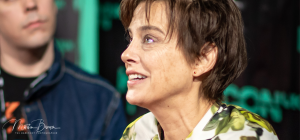 The whole reason I went this year it was a birthday present from my wife Dream Warriors is my fave Freddy
Ohhh What a Rush!!!
Sean Pertwee:
A great bloke, very fan friendly & a good laugh
Sean Pertwee is such a dish
Such an awesome guy. So SO nice!!
He was soooo nice and very sexy 
Absolute top bloke
Corey Feldman:
I bloody loved him!! Ask him back one year please
I still can't believe I met Corey never thought I would fulfil my dream but it happened. Thanx to horrorcon, he truly was an amazing guy ❤
Thank you so much for the best day ever!
Great to see everyone having such a good time with Corey. What a privilege it was for me to get to interview such an entertaining and lively guest – Darrell Buxton
General:
I ALWAYS love painting at Horrorcon. It's such a fun event. My favourite of the year X – Midlands Body Paint Project
My first horror con and it was amazing I can't wait for next year!!! ☠
Had an amazing time, cannot wait for next year! ❤
Had a ton of fun and can't wait till next year!
Awesome day ❤Fantastic cosplayers this year
Had a wonderful day!! 
Best Horrorcon ever! Love the location & the welcome committee. We haven't attended the Sheffield one before but we've attended many others. Will definitely be back here next year
Simply brilliant…but then it always is…roll on HorrorCon 2020
Loved it…. Became a fully fledged GOONIE/LOST BOY "HEY YOU GUYS"
This show never disappoints and the afterparty… Well that has to happen again… incredible
Had a great time bought some great stuff met my all time favourite Duncan talked to some really nice people outside aswell
Awesome day yesterday best organised con we've been to this year 
Thank you Horrorcon! A most excellent weekend.
Finally getting to meet Dario Argento was the highlight for me and walked away with some great memories of the weekend
Great convention, awesome staff and the best people
Loved it
Fantastic weekend as ever
On the plane already   See u again soon lovely horror family
Great event again. Ed Neal was great fun! Also privileged to see Corey, Argento & Victoria Price. Some fantastic stalls and displays. Thanks to the organisers once again
Absolutely loved it met Bunny glamorous as always
Loved it. 
I met Corey. Best day ever lol
Went Saturday and was an amazing day. Great guests amazing cosplays couldn't fault anything. Take a bow horrorcon and see you next year
Had a fantastic time. Got to meet Sean Pertwee. Thank you horrorconuk ❤ see you next year 
Loved it… dream come true meeting Corey Feldman…thanks Horrorconuk…you're dream makers
Can't wait for next year now!!!!!!
Had an awesome day. We have traded here past two years and each year had been amazing. We decided this year to just attend and enjoy the day. Loved every minute. Meeting and chatting to Victoria Price was like meeting part of Vincent himself. I bought the book and Victoria signed it too. Then meeting Sean Pertwee himself was super cool and the photo op. One actor on my list of a few I've always wanted to see and talk to. Then on top to meet Corey Feldman and have a quick few second chat was great. He was so polite and nice. Then to finish the day having a chat with a Bunny and meeting some cosplayers. Back to some stalls and tried the Rum from Fallen Angel which is amazing. Yep we bought some.  Another best day ever and can't wait to be back next year. Hurry up 2020. Thank you Gill, Wendy and all the staff for this event as you don't half know how to pull off a good convention
Loved every minute of it
 Thanks to everyone who makes this such an amazing event… Can't wait for the next one
Has an absolutely wicked time. A slick operation, thank you. See you 2020
Awesome day thanks to all that put it together.  Job well done
See you next year you wonderful lot!
Had a great time! Thanks
Great event as always. Big thanks to everyone involved with bringing such an event together and a big thanks to the guests for giving up their time to meet the fans
For anyone going today just a heads up…
YESTERDAY WAS AMAAAAZING, great job again guys I have said it before but you really have made a UK con that, with time and growth, could rival the big US cons excellent job see you next year 
Wish I could be there for day 2, day 1 was so much fun!
Yesterday was my fourth year in a row and it just gets better and better. Picked up a ton of great films, prints and tees.  Highlights though were definitely meeting Dario and making an awesome new friend in Lauren
Will 100% be back again next year
Such an awesome day yesterday I'll be around today x come say hi!
Went yesterday and it was a blast… excellent day with great guests and superb cosplays wish I was going again!!
Yesterday it was amazing!!!
I completely agree with you, absolutely outstanding, Loved it, roll on today. Thanks for this fantastic weekend
Have an awesome day guys. Yesterday was tops ❤ xx