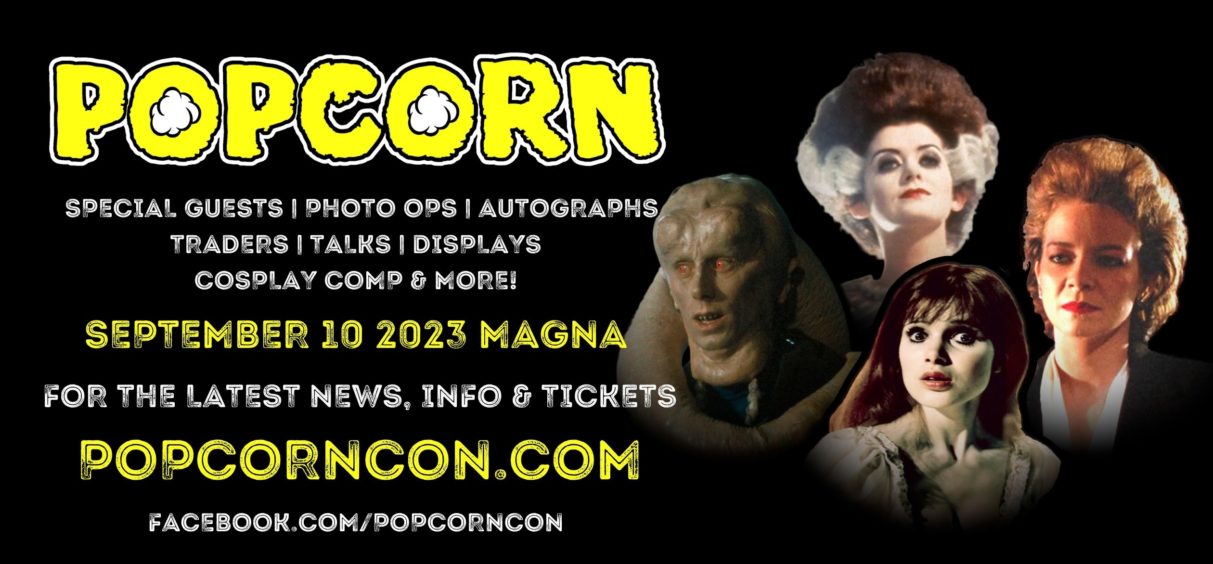 Blog

Popcorn TV, Film & Comic Con 10 September Magna
Our sister con Popcorn TV, Film & Comic Con (also dubbed HorrorCon Lite by some!) is taking place at Magna on Sunday 10th September 2023!
Prepare for an unforgettable experience as we welcome Clare Higgins, Michael Carter, Patricia Quinn, and Madeline Smith to Popcorn!  Get ready pop into the world of pop culture with these extraordinary guests!
Clare Higgins: Known for her iconic portrayal of Julia Cotton in the classic horror film "Hellraiser" and its sequel "Hellbound", Claire Higgins has enthralled audiences with her performances in numerous film, TV, and stage productions.
Michael Carter: Joining the guest line-up is the talented actor Michael Carter, recognized for his memorable role as unfortunate Tube commuter Gerald Bringsley in An American Werewolf in London, and for his role as Bib Fortuna, Jabba the Hutt's majordomo, in "Star Wars: Episode VI – Return of the Jedi.".
Patricia Quinn: Get ready to do the "Time Warp" with the fantastic Patricia Quinn, known for her iconic role as Magenta in the cult classic "The Rocky Horror Picture Show."
Madeline Smith: Joining the bill is the charming and talented horror icon Madeline Smith, beloved for her roles in classic Hammer Horror films such as "The Vampire Lovers" and "Frankenstein and the Monster from Hell."
Popcorn TV, Film and Comic Con Sheffield is not your average con, it's like HorrorConUK!  Let's face it how could we at HorrorConUK run a "normal" comic con!!   So come long and immerse yourself in the atmosphere, explore the market filled with goodies and revel in the company of fellow fans who share in your love for all things geeky!
Stay tuned for updates, panel schedules, and ticket information by visiting our official website Popcorncon.com and by following us on social media Facebook/Popcorncon.
More guest announcements coming soon!
Wendy & Gill xx