Saturday Film Screening 1
11:00am – 11.30am
The Villagers
Dir. Joseph Vasey|Australia|8:44 minutes|English Language|18 Certificate
A young astronaut stumbles across an indigenous group on a remote planet that has horrifying consequences for her life.
Starring: Shannon Ashlyn
Another Game
Dir. Riyad Barmania|UK|8:31 minutes|English Language|18 Certificate
A group have signed up to a mysterious lottery with disturbingly high stakes, where their thirst for dominance blinds them to the risk they take.
Starring:  Daniel Tomlinson|Paul Neafcy|Matthew Stogdon|Millie Reeves
The Drone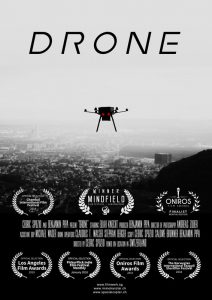 Dir. Cédric Spozio|Switzerland|5:55 minutes|English Language|18 Certificate
A young guy gets chased by a scary drone.
Starring: Eliah Knecht
Saturday Film Screening 2
11:50am – 12.30pm
Up & Arise
Dir. Raanan Berger|Israel|21:30 minutes|Hebrew with English Subtitles|18 Certificate
Likey is a man who was raised by his Master as a dog. When he succeeds to escape from his Master's home, he discovers that the outside world conducts itself differently than he would expect.
Starring: Amit Bar-Am|Avi Pnini|Avigail Harari
The Stay
Dir. Frazer Lee|UK|8:30 minutes|English Language|18 Certificate
A young woman checks into a secluded holiday cottage and discovers that some vacations stay with you…forever.
Starring: Daniela Finley
Saturday Film Screening 3

12:50pm – 1:30pm
Sulphur for Leviathan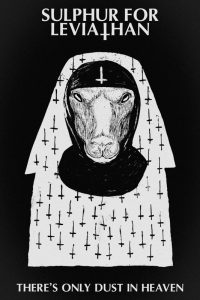 Dir.  James Quinn|Austrian|13:28 minutes|English Language|18 Certificate
A nun suddenly finds herself progressively fantasizing about things that shouldn't be in her head, increasingly having to face her own doings of blasphemy, all leading up to something demonically dark and sinister.
Portrayed in a surreal manner both in color and black and white, with a heavy focus on elegant cinematography, the film tells a satanic tale of unfulfilled desires, lust, blasphemy and existential dread, packed in a controversial and disturbing, but calm and poetic experience that is heavily inspired by Andrei Tarkovsky, with a touch of satanism.
Starring: Susan M. Martin|Craig Long|Jerry Larew|Blade Amodio|Joseph Knapik
Flo

Dir. Melanie Gourlay|UK|4:36 minutes|English Language|18 Certificate 
A vicious cycle of events leads a young girl to continually encounter the same violent conflict.
Starring:  Jimmi Addison|Shauna Shay
Cult Screenings The Offer
13:30 – 14:40pm
Dir. Chris Griffiths & Gary Smart|UK|48 minutes|English Language|18 Certificate
Seven strangers are invited to a house to be offered a large inheritance, instead they find themselves trapped in a deadly game to the death.
Starring: Kenneth Cranham|Oliver Smith|Barbie Wilde|Simon Bamford|Nicholas Vince|Bruce Jones
Student Film TBA
14:45pm 15:00pm
Saturday Film Screening 4

15:20pm – 16:30pm
Burn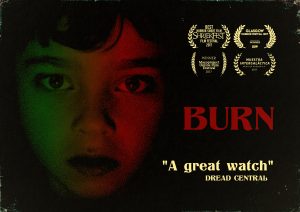 Dir. Judson Vaughan|UK|14:59 minutes|English Language|18 Certificate
In an increasingly panicked part of England, local disappearances have become nationwide news. Expectant couple Peter and Louise Vaubarn watch the media's coverage of recent events in both fascination and fear – their first child, Charlie, will soon be born amid the mass hysteria.
With Pete's fragile health in the balance, his means of providing fatherly advice to his unborn son are limited, but will shape the family's life forever.  Written by The Slaughtered Bird's Chris Barnes.

Spirit Board
Dir.  Andrea Ricca|Italy|5:30 minutes|English Language|18 Certificate
A short horror film about a girl and an ouija séance gone wrong.

Starring:  Ilaria Lamberti
Doorways
Dir. Vortre Williams|UK|10:26 minutes|English Language|18 Certificate
A newly-evicted young girl hooks up with a down-and-out veteran in Manchester's Northern Quarter who believes his street colleagues are being abducted from the city sidewalks.
Starring: Danny Sheppard|Katie Marie-Carter
Return of the Slasher
Dir. Anthony Ashmore|USA|13 minutes|English Language|18 Certificate
A young suburbanite is stalked and attacked by "The Slasher". A homage to John Carpenter and early 80's Cinema.
Starring:  Christine James Walker