We are Mad About Horror. If you are too, we have such sights to show you.
We've sought out the coolest horror collectibles featuring popular brands like NECA and Mezco Toyz. We've even scoured the US, the 'home of horror' to bring even more frightful items to the UK.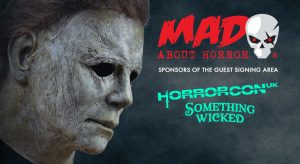 You'll find a wide range of licensed latex masks from our friends at Trick or Treat Studios with characters from all your favourite horror films as well as props, pins and the one-to-one scale dolls such as Chucky & Annabelle. Because Trick or Treat Studios are always bringing exciting new products to horror fans, we want to make sure you guys can get your hands on them first.
We also work with a number of independent brands to bring you the newest in horror memorabilia. You'll find lots of other collectible goodies from Creepy Co, Terror Threads, Kreepsville 666, Rock Rebel to name just a few,  including tees, pins, button-up shirts, handbags, cushions and loads of other cool stuff to fill your home.
We want to be your go-to horror stop, so if you don't see it, ask or tell us.
So step into The Lair – if you dare!